Easy Weathering DVD
Rusty Metal, Rotten Wood, and Peeling Paint
In stock and shipping today on DVD. Price is $15 with FREE shipping to anywhere in the US.
Shipping to the rest of the world is at actual cost of postage.
You can pay with Paypal.  Just use my email address for Paypal payments.
Or send your personal check or $15 in cash to:
Darryl Huffman
451 N Evelyn Way
Star, ID 83669
or email me at:
I ship upon receipt of your mailing address rather than waiting for your check to arrive and clear the bank. I've never had a model railroader cheat me yet.
This 2 hour long how-to-do-it clinic features weathering techniques for the new modeler and for the experienced model builder as well. Standard methods used by model builders around the world are shown, plus new techniques developed by the author are included.
Step by step detailed demonstrations help you to make new materials look old and weatherbeaten. Demonstrations include chipped and blistered paint on an old car. Rusted out fenders. Paint worn through to the primer.
Different methods of achieving the look of old rotten wood and peeling paint are carefully explainded and shown.
You will see how to make corregated siding and how to paint it and age it. The technique of producing rusted old metal siding and roofing materials using acid is clearly shown. Applying and weathering an old tar paper roof is demonstrated as well.
Two full hours of detailed, helpful instruction from an award winning model builder with over 60 years of experience in weathering models.
Satisfaction guaranteed or your money will be cheerfully refunded.
Rusty Metal
Notice the blistered paint peeling off the door of this 1/43rd scale 1936 Ford. The old paint has been worn down to the metal primer underneath.
How to rust out a fender all the way through is also shown.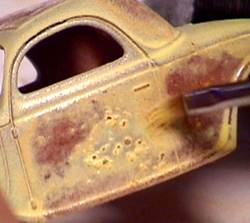 Rotten Wood and Peeling Paint
Detailed step by step instruction on how to get the unique look of old peeling paint is clearly shown. Using different methods of achieving old rotten wood are shown as well. Helpful ideas on obtaining that old silver gray look of wood which has spent a hundred years baking the the hot sun of the desert.
This highly magnified photo of some of the actual weathering done in the video shows the detailed look of wood and paint abused by years of neglect.